I attended an ETC event last weekend with my Wood elves. I had a hard time deciding what list to use, but I finaly decided to try a 3 treeman list. The problem once I had decided, 2 weeks before the tournament, was that I only owned 2 treemen... Living far out in the wilderness, I just knew that I wouldnt be able to buy or get me a new treeman before the tournament... especially not one that matched my other old style treemen. So... what to do... Well... I made my own from wire and greenstuff... and thus... Stumpy was born.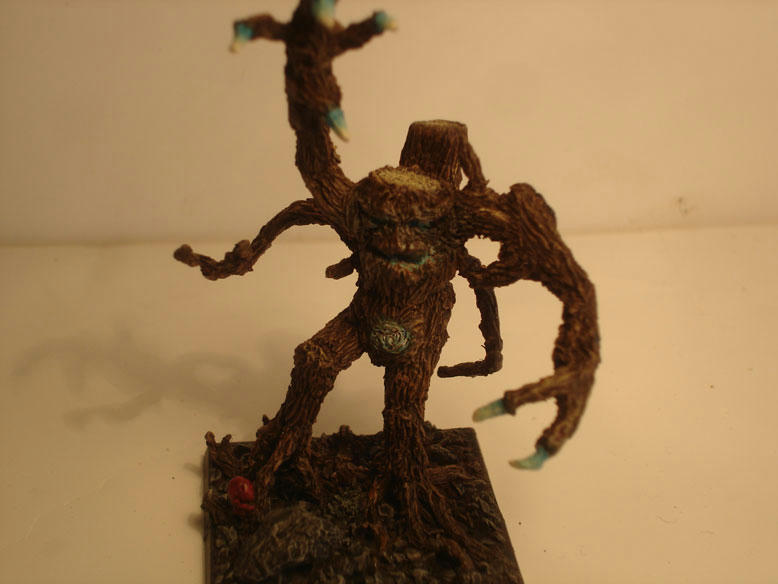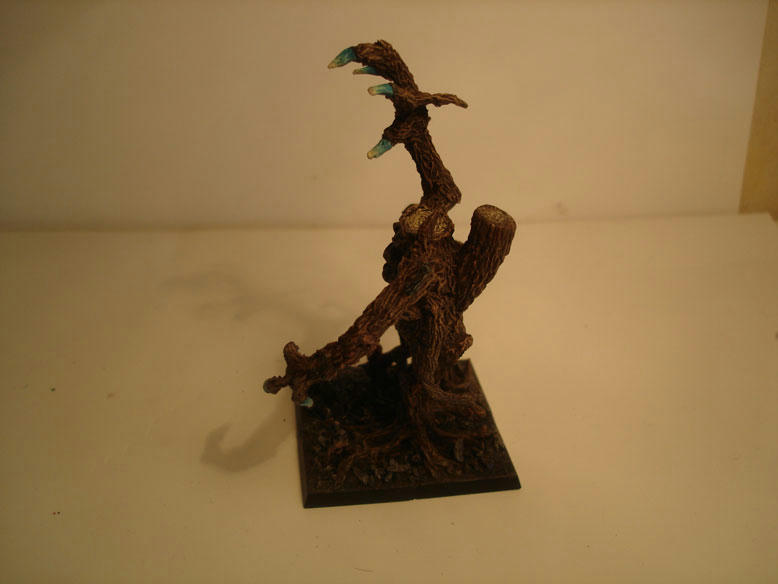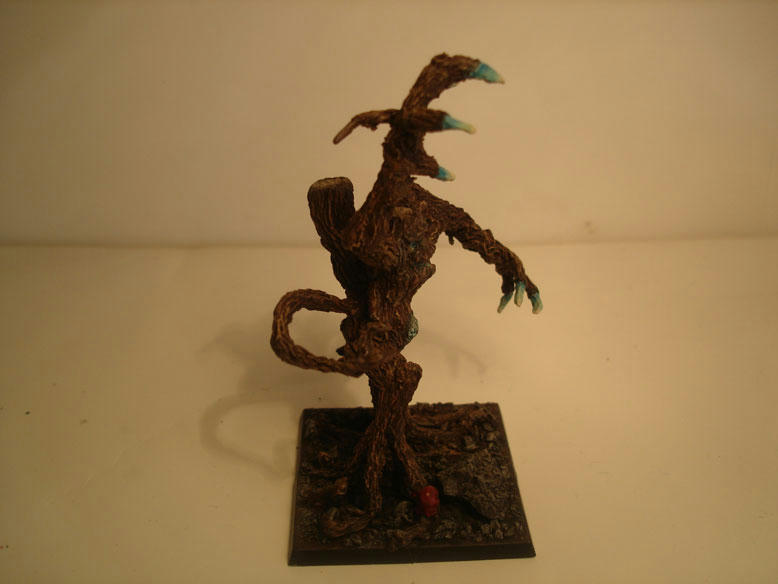 I made the sculpt in about a week and then a few more days painting, but I managed to finish him in time.
Backstory:
Stumpy was previously known as Ahurrumanassu and is an old treeman. He can remember seeing the High Elf white towers bordering the lands outside of Athel Loren as a young sappling, and that was long before the sundering that eventually led to the high elves leaving the shores of the old world. Most of the time he has been content living in solitude and in harmony with the rest of the forest. Sometimes he has taken naps lasting a century or two if he has found a peaceful glade or enchanting stream somewhere. When waking again, he has been content with the new landscape he has awoken to as during the time the forests are bound to shift and change around him. 87 years ago that was about to change.
He had found a nice hill overlooking a vale to the southwest. Enhanced by the plentyfull sunlight and the beatifull sights he had fallen asleep ontop of the hill. A fierce winterstorm a few years later actually made him fall over in his sleep, but he never bothered standing up again as he was content in his new position on the ground. Another decade passed and it so happened that a few brave brettonian woodsmen found him lying atop the hill. Not knowing better they mistook the ancient treeman for a dead tree and thought it's branches would do well as firewood in the coming winter. As they sunk their axes into his bark he first didnt notice much, thinking it was an animal trying to make a nest. But suddenly he awoke with a thunderous roar as his crown was separated from his stem with a mighty chop of an axe. In a terrible roar he rose and slashed at the tiny humans around him. He slayed the most of them but a few managed to run towards the closest Brettonian settlement. Enraged he took pursuit and upon comming across a village he destroyed it, looking for the fleeing humans. He now has a burning hatred for any non-elf even daring to venturing close to the forest and is often seen in the midst of enemies when the Asrai goes to war. He is haunted by what happened to him the last time he fell asleep and can not find rest theese days. He sees threats to the forest everywhere and quickly travels through the forest to help defend it. Since he is always fighting where the battle is most dangerous he is constantly loosing branches and limbs and is constantly regrowing them again. His nickname Stumpy is not something that is called him out of spite, It is a name he has choosen so that hew will be easily known and feared when entering the battlefield against all that threaten Athel Loren and its inhabitants. So known is his rage that many hundreds of troops and knights have choosen to abandon their stations upon recognizing their foe.