I have so far been only lurking and gathering courage to show my creations. I am only starting with miniatures and the figures that will appear both on my blog and here are the first ones I have ever done.
However, I have just finished something I am quite proud of and would like to show, as it's the first thing of this kind I've ever done.
Two notes to begin:
I am not working within the warhammer lore, as I don't know the world. At all. I mostly like the models, but I don't call my elves Asrai. (Does my stuff still fit here then?)
And the thing I would like to present today is not even elven, it only happens to be n the same forest with them, (
)
It was sleeping. It was waiting.
The old place of sacrifice was long abandoned, the people who had once used it gone and forgotten. It did not care for them, even if their bones would be lying among those of countless others on the bottom of the lake. It only knew someone had once fed it and that the feeding had stopped.
It was dead now, without new lives to steal, as dead as it had been long before. There was no power left in the rune-covered tree to give away the presence of something sinister.
But it was still there. Sleeping. Waiting.
And the waters of the lake never lost the red colour of blood...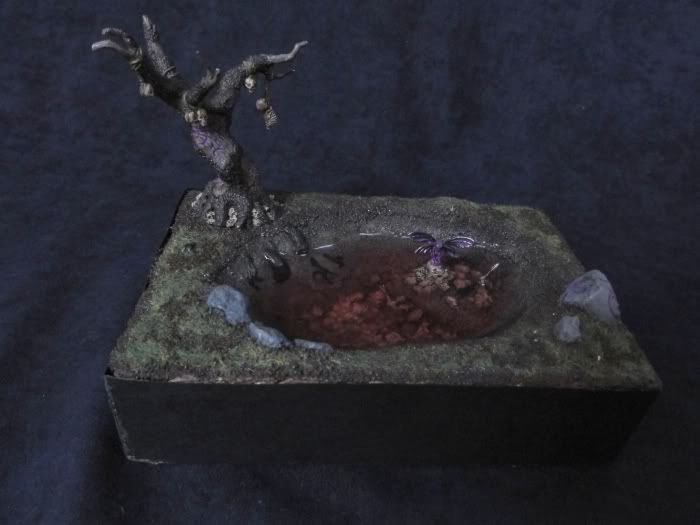 Skulls are partly from Warhammer skeletons (bought as bits) and partly piles for bases. The tree is from Hordes (Cassius the Oathkeeper and Wurmwood) and was the inspiration for the piece.
Top view with the skuls on the bottom of the lake: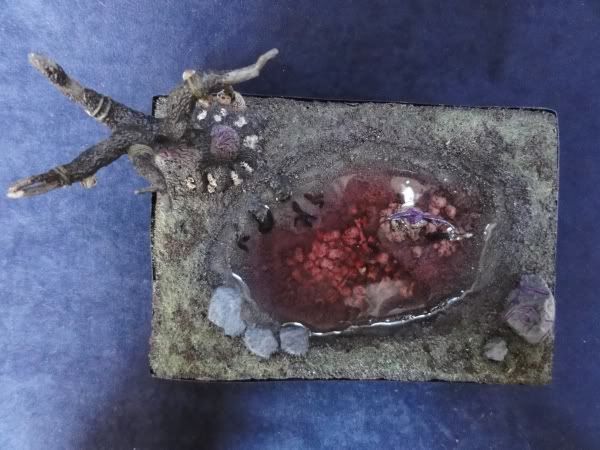 Side views: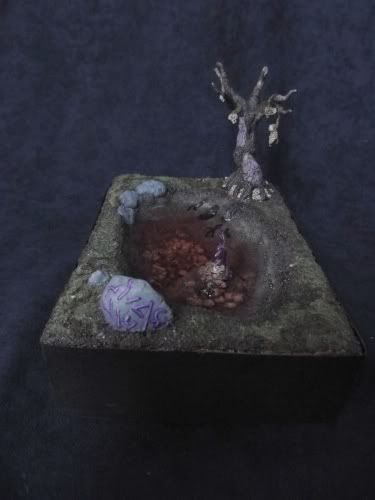 Right now I'm thinking about making more similar scenery pieces and maybe to glue them together later. I would like to make an elven counterpart to this, a tree of life their village would be built around.